As you know, I've been making majestic outfits for my beautiful Krsna - He belongs to my sister Radha dasi. I feel like I should say she belongs to Him! How would I put that? The beautiful Krishna in the care of Radha dasi? The beautiful Lord of Radha dasi, Sri Krishna!
There were a number of things that made this time wonderfully exciting for me, and I have SO MANY pictures I feel I could do at least 6 blog posts to cover them all! Only- I don't think I will, so I might just tell you all about how KRISHNA CAME- CONQUERED – LEFT!
He first arrived to visit in January 2018, and due to a series of unexpected events (all of exciting nature – like, the Hawaiian floods, then volcanoes, then unexpected disappearances in the family, and great moves across the continent!) He ended up staying with me for 8 glorious months of dedicated sewing time, having Him RIGHT HERE for fittings, sitting at my table and available to be closely measured and doted on.
Instagram was full of my different WIP clothes for Krishna, and every weekend was a speed sewing fest. I think I've been too busy to focus on anything else! Actually, I lured my sister into leaving Krishna with me, when she dashed home in March, by promising 10 complete outfits with turbans, and not to do anything else until they were done! It was tricky, I had a few distractions, but I MADE IT! 10 beautiful outfits for Krsna, in 3 weeks. Ok maybe more like in 8 months, but by now I have capped the Krishna wardrobe collection, running on to more like… 16? I have to count!

We had a lot of fun naming the outfits creatively!
This is His outfit list:
Lotus (definately one of the favorite outfits!)
Mango Lion;
this one was made thinking about Lord Nrsringadev, with more of a shako style turban for Krishna. It's an interesting and functional outfit where you can remove that floaty orange silk overskirt, and style it more simply with just the vest, pants and shawl.
Purple Majesty
This outfit, such a hit! The purple is one of her favorite colors, and purple and gold = sensational. The Blue and the Purple are almost the same in style, with the puffy pant and the overskirt, top, topped with big turban.
They're both super majestic and formal and a bit dancey.
Turquoise Lake – this first blue one is the Turquoise lake… it has a matching blue overskirt too.
Green & White freshness
One of my earlier efforts, before I went all out lavish after a bit more direction from my sister toward "mathura prince Krishna style".
It's still got that glorious dhoti, and the nice useful vest which will probably be great in the changing seasons weather, like the Autumn coolness or unpredictability of Spring.
Majestic Prince (the turban for this outfit is my sisters favorite turban – it's also the biggest and most full on ornamented!)
Honestly I struggled a LOT with this outfit! I made the maroon velvet top, which I think veers towards luscious velvet bathrobe. And pairing it with YELLOW was such a hard choice but it's so INDIAN I think, and super authentic. The Turban just kept getting bigger and bigger! Still, it's one of my sisters favorites, she confided.
Rose Red
Gasp! Stunning.
Royal Red coat and oriental dhoti
so cute, this coat is made from heavy braid, and topped with a soft silk shirt and a fair bit of braid.
The braid was donated by MadyaLila from Ashraya! It's the extra's for one of her Ashraya outfits, so as she told me delightfully, she's so happy to be twinning with Krishna!
Bathing outfit – Krishna's swimming gear, named so because it's simplicity and pastel colors
Royal Blue – can't find a photo, but it's a vest and royal blue dhoti. I'll try and add a picture later!
Emerald – the most incredible dhoti with reams of expensive gold braid, decorated in pearls!
Now he has hair though, the crown doesn't fit. The simplicity of this is just to my taste!
Balaram Lustre
Balaram Lustre outfit started out with this pristine white velvet, and the concept of a rolled side turban with that higher on one side Rajput Princely style element. It came out REALLY NICELY, I felt, but I did warm up all the white with some blue vest.
I'm particularly keen on the pearl drop elements at His beautiful waist.
Peacock Outfit
This beautiful outfit has the best set of pants, they're the final product after 4 attempts at pants, I think I finally made the best type for Him.
They are made from a blue shantung silk, and the outfit has a matching oriental green skirt, with a green silk fitted top. I have also paired it with a high waist belt, as you sometimes see in ancient Indian paintings and sculptures. LOVE IT!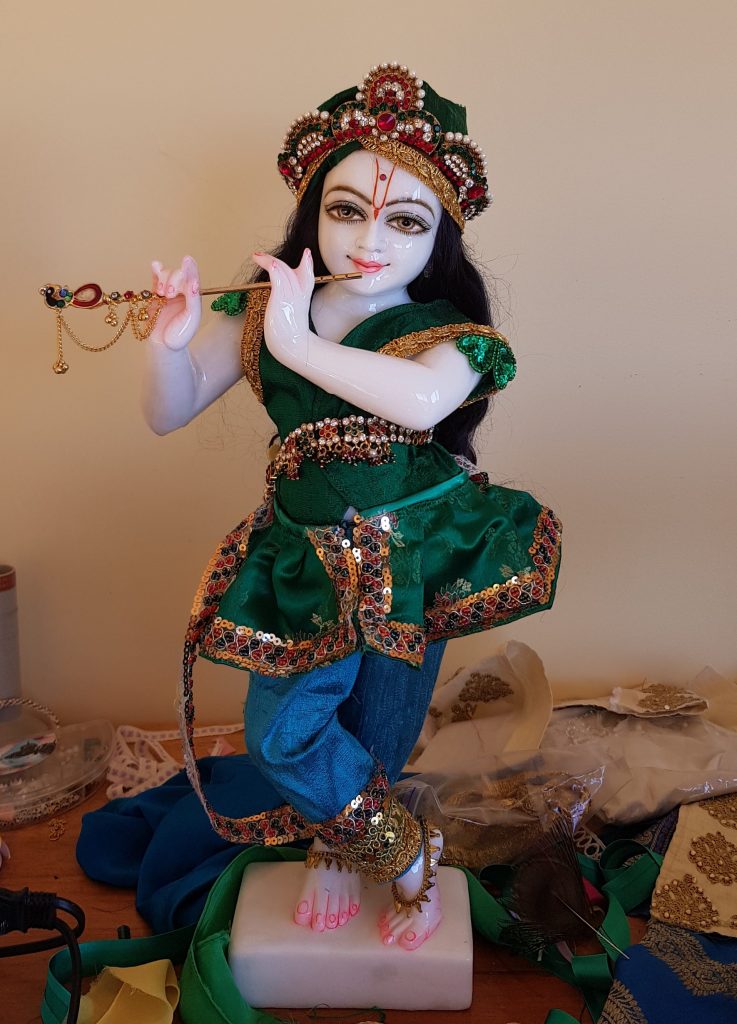 Fresh forest flowers – this one is a rejected outfit… I made it, I like it, but it's not been popular due to the large flowery print, and so it's one I'm keeping here to model off SIZES. To me it's very Rajput. And I love it.
Love, Sita