Decoration ideas - Sri Krishna Janmastami!
14 days until the glorious Appearance day of Sri Krishna!
Welcome Krishna to come into your home and be worshiped upon the altar.
A beautiful tradition in India to celebrate and decorate for Sri Krishna Janmastami is to use Rangoli paste and decorate from the entry, all the way into the altar, with little footprints, inviting little sweet Krishna in.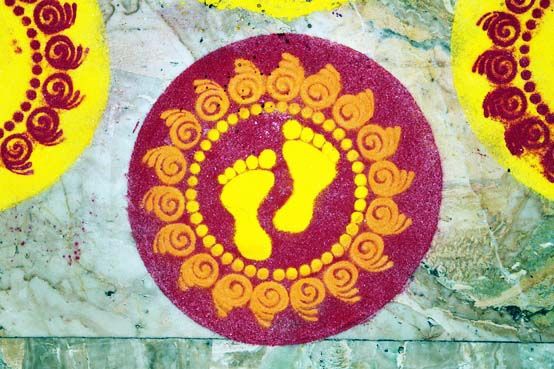 We have celebrated and decorated in this way since my marvellous sister suggested it 10 years ago!
Always in rentals, with rarely any options to actually use anything messy like riceflour paste, we have had to be creative!
How you execute this idea will depend on your floor type, and time/money factor.
You can buy removable/reuseable wall decals in the shape of little gorgeous footprints online. I did a quick search for sources and found the following options:
I have seen these in plain white at my local craft shop so cheaply. They work reversable coz they are blank.

foam and glitter foot prints from amazon

order online wall decal easy

Order online from amazon
The wall decals work best if you have a tile or wooden floor. Alternately you may choose to run them along the sides of the wall to the altar, rather than the floor. When we have them on the floor the kids love to run after them following the foots, which is fine because it leads them to the altar!
When we ordered a set of these, I painted on the symbols. But to be totally frank they did not last removal and my 1yr old's determination to destroy. They may be better these days!
You can also order little paper cut craft feet from the craft stores, maybe you can pick it up instore, or maybe you can order it online.
They are easy and cute!
We of course went the whole CHEAP and LABORIOUS HOG.
What we did was cut stencils, and then used the stencil to create a huge amount of little lotus flowers with Krsna's lotus feet in them. I'm sorry to say I did NOT get Krsna's lovely markings on the correct feet, I realized a few years later (sigh and cry).
You can contact paper the lotus flowers with Krsna's feet on them, to protect them, and then use bluetack to adhere the lotus feet to the ground.
But with all our effort, it was well worth it, because we have used them for years.
Have fun at home setting up beautiful festive decorations for Janmastami, and celebrate it as a true festival, it really is the best time of the year!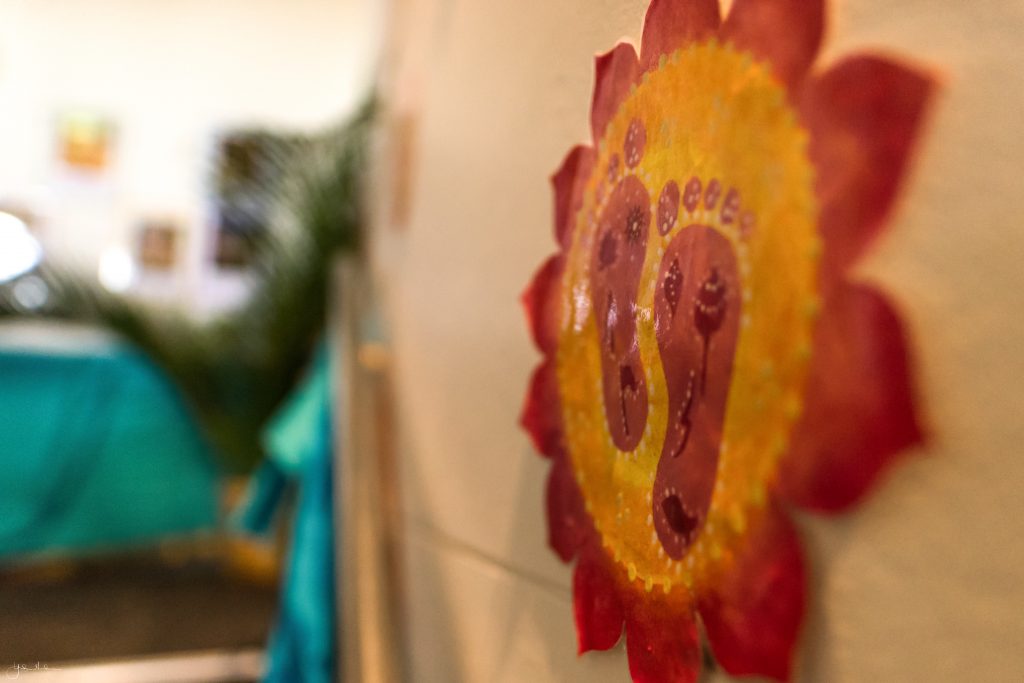 These have been used repeatedly over the years, and we use them to decorate the walls up the stairwell to lead into the party for Krishna's appearance day too.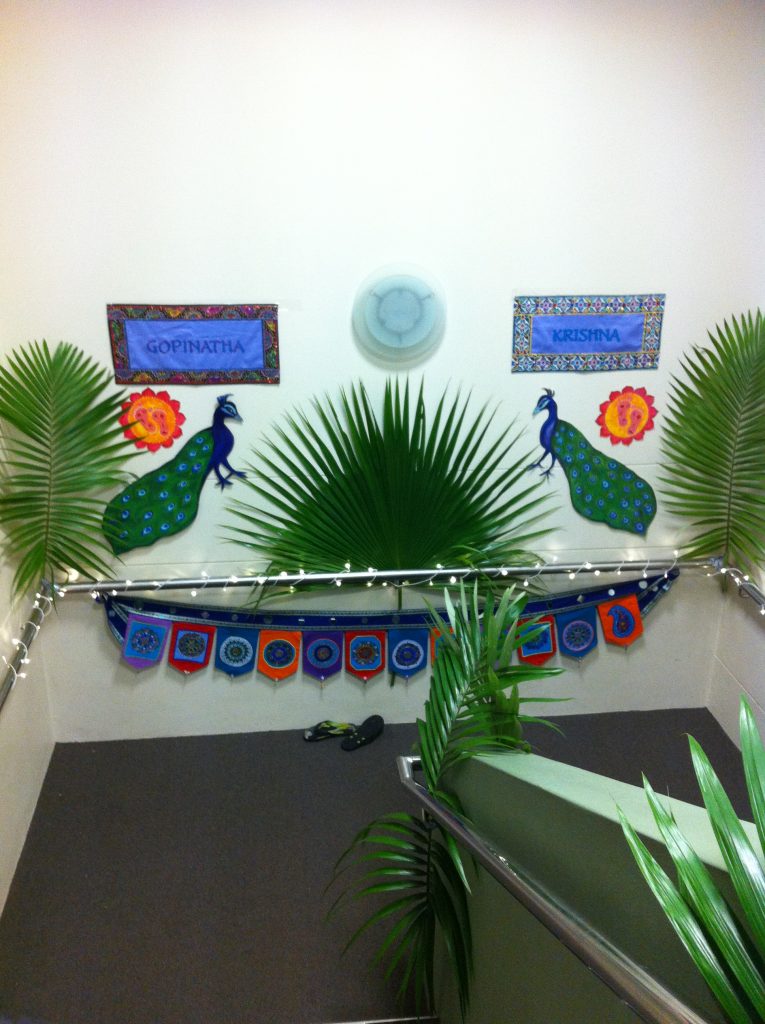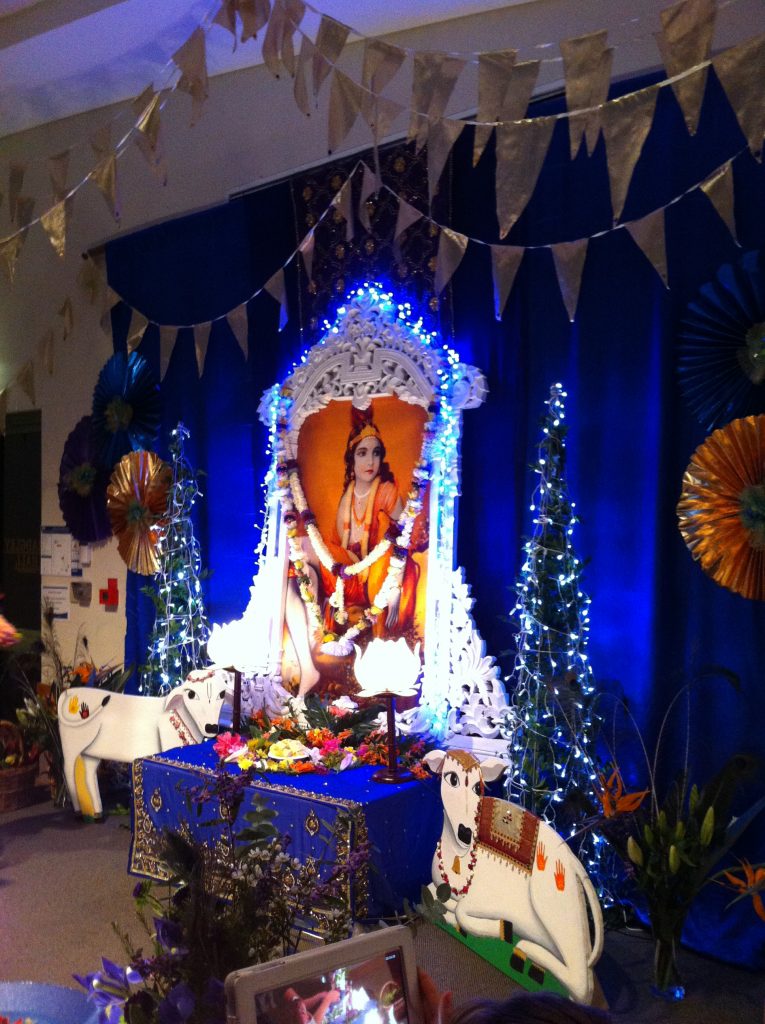 More ideas on celebrating Krishna Janmastami coming up – this is going to be a 14 day series of blog posts for you, and I'll link them all here. Be sure to sign up to the newsletter to see all the ideas.