Beautiful blackish Syamasundar, smiling at us with His dusky blackish skin and mellow eyes, so entrancing.. and moonlit washed marble white Murli, so entrancingly creamy and dreamy…
I have long admired the Krishna deities which my friends and family have worshipped.
Krishna has so many different moods!
We know that, looking at a deity of Krishna it doesn't matter from what His form is created. Be it carved wood, formed clay, poured metal or crafted marble – Krishna is so captivating and beautiful that it is His form and transcendental loveliness which prevails. The way in which He captures His dear devotees and accepts their worship is always different. In His adornments, the decorations He wears and the look in His eyes – dreamy, naughty, reassuring, loving, mirthful, reassuring – it's all there when you begin a relationship with Krishna in His deity form!
But it's kinda hard to commit to a purchase of a Krishna statue, before you begin worshiping Him.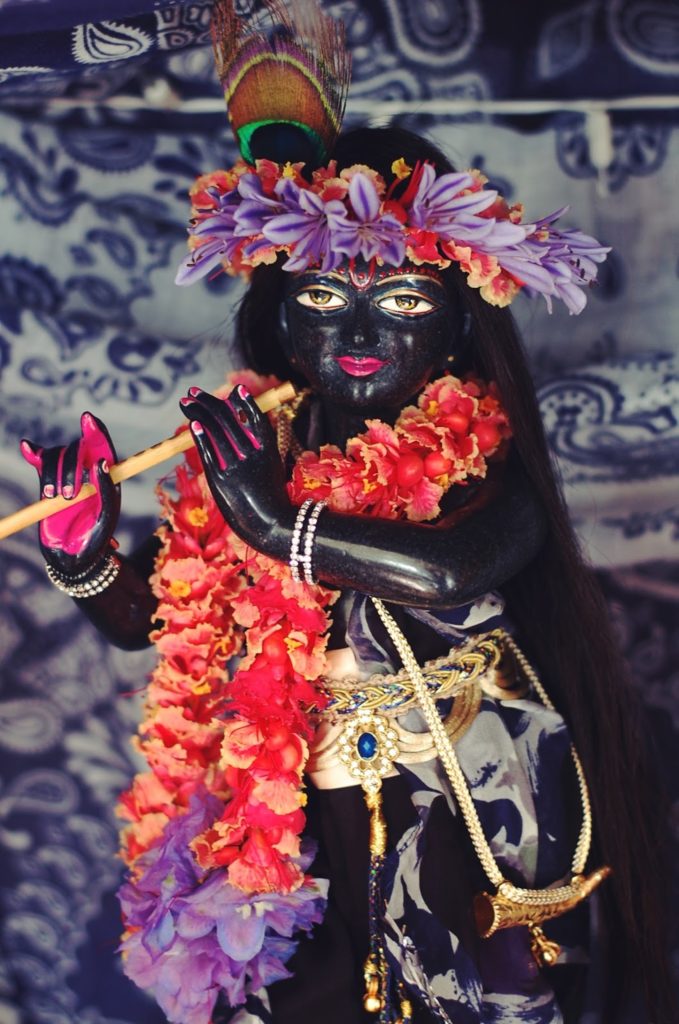 After so much wonder and bliss and attraction to so very many different deities, I am personally dithering and have been for years – dark Krishna or light Krishna? Because really… it doesn't matter, it's just KRISHNA I want!
But even so, I've been looking and looking at deities, thinking, I would really like Krishna to look after here, to make Him garlands and clothes and rest my eyes on Him as I chant japa and sing to my Lords.. or like I used to, have Him with me as I work ready to bedazzle my eyes and capture my heart.
It's this ever-going-around circle in my head. This morning I looked at the deity of Krishna I have recently painted – a black soapstone Krishna, who was imperfectly carved, but now, He is just so CHARMING! And if He were mine I know that I wouldn't change Him for any other! He has this very JOYFUL and HAPPY look (which is just so perfect for the bubbly devotee who will be taking Him home) and it was such a delightful flash of perception. Krishna is Krishna. He will inhabit a deity form and the color texture quality etc are all immaterial because… it's Krishna! He is above the material considerations and will sneak in and steal our hearts.
So – do I know whether I want a black marble Krishna or a white marble Krishna now? Yes. Black or white (light blue I should say) either way I am happy.
Now its all about looking for Krishna at the right age. What's the right age? Any age of Krishna! I'm kind of joking, but I do think that Krishna makes His own arrangements that He comes to you just as He should.
Look at youthful and blushing Krsna here: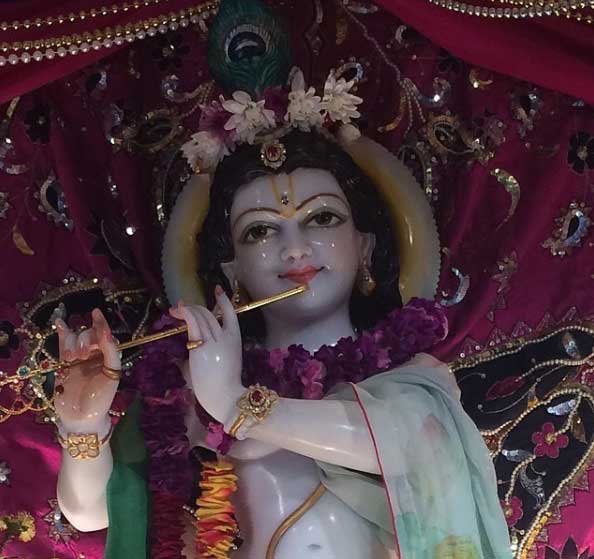 The mistake I don't want to make again:
When I ordered my own dear Nitai Gaura deities, I had ordered the exact same deities that my sister has. (My sisters deities are SO SO SWEET!) Her Gaura Nitai deities have these meek and mild faces, so far removed from looking at the world, but focused on Krishna, and this dainty posture, arms raised high.. Oh I just LOVE them!
So I placed an order, with the same supplier, for these deities. But then, to my consternation, the supplier sent back a picture of the deities they were sending. I wailed and woe'd! It was absolutely NOT a set from the same mold. They were different in a zillion ways. I tried again –  I emailed back and said – "NO! These are NOT the deities I want." And I resent the picture of my sister's Lords, pointing out the differences. OK – next I got a pic back (of the same deities) with painted base to mimic the bases on my sister deities, and painted faces… Oh, so not the point!… So I gave up, and said ok, well, if that's what you are sending me what can I do.
And then. They arrived.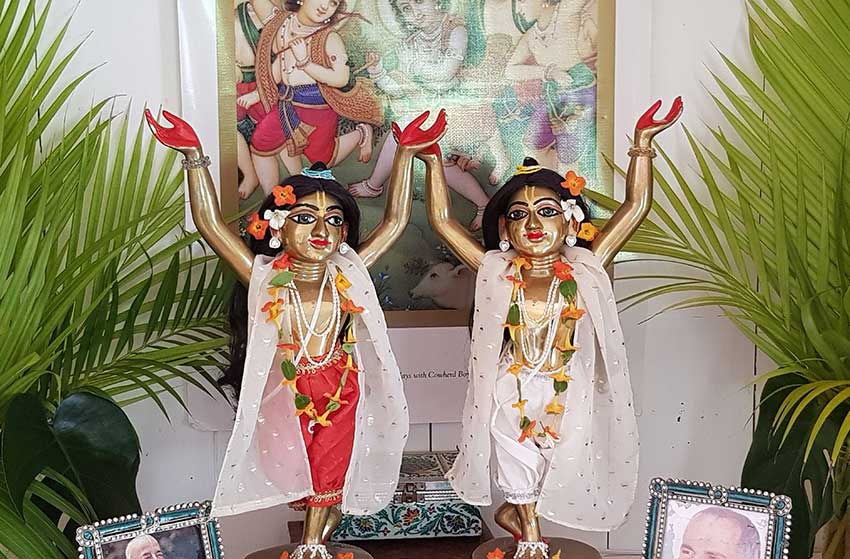 The minute I cracked open the box (they arrived in this massive crate! So well packed and stored, and it was obvious this Immense TREASURE had arrived on my doorstep! So the minute I opened the box and before I had even untied them and lifted them out, I had lost my heart. I cried out of happiness and wonder. Krishna had chosen how to come to me and They were perfect. I have to laugh about it now, that I thought I knew best.
Krishna knows how you want to relate to Him. He knows your heart.
My deities have this amazing welcoming presence. They have wide open hearts and arms open welcoming and lifted up as they dance. They have very curved dancing hips and one foot is lifted off the ground – They are dancing all the time, and I dress Them in clothes that won't get in the way of Their transcendental dancing. Their eyes are big and lustrous, They have beautiful smiles that are at once grave and happy, and to see them is to see how They invite us into the spiritual world.
Worshipping Lord Chaitanya and Lord Nityananda deities is so nice; we develop the mood of service. If I'm lazy out of bed or lazy to cook dinner I remember that I haven't woken up my Lords or offered them food, actually it keeps me more regulated! And I worry about them, while I am cooking, if they will like it and try and keep the mood of cooking it nice. Mostly I'm super lazy, so it helps to have this little prompting!
When my parents took care of my Nitai Gaura while I was away for a week, years ago, here's my Lords with their Lords: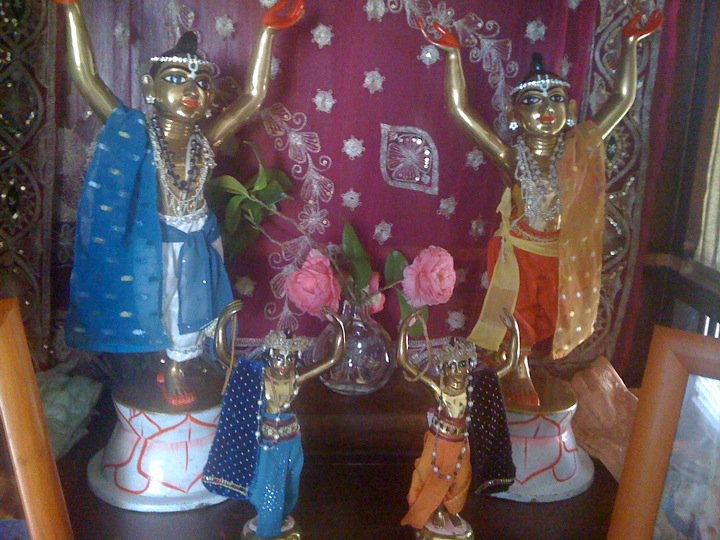 My parents  darling Lord Chaitanya and Lord Nityananda deities, but they love to come and visit my Lords and offer worship with kirtan.
If you think you might like to order the same set (haha!) you can contact me to get the name of the supplier!
Read my blog about different types of deity forms that may work for your family –coming soon!.